Crypto Insiders Premium members receive new weekly technical analysis on more than 20 cryptocurrencies. You will also come into contact with experienced traders, analysts and a community of more than 1,000 members.
In this article, we share a recent analysis of quant (QNT) previously shared in our premium group. Are you not yet a member or do you still have questions after reading this article? Then try our Premium membership for free for 30 days.
Technical analysis QNT price
Last night, the cryptocurrencies market showed a remarkable turnaround. After initially being heavily in the red, we are now seeing an increase of about 10% across the entire market, including QNT. Nevertheless, Crypto Insiders analysts still expect a significant drop. Here's what they have to say about it:
"QNT's price continues to fall and has reached new lows. Although the decline is not yet very strong, there is clearly a downward trend. We are in a downward C wave of an ABC-Elliott Wave pattern here. This pattern indicates that significant market turbulence is still ahead."
Keep in mind that this analysis is already a week old, so older than last week's crash. In retrospect, the analysts were right that quant would plummet. Once the decline continues, the analysts may be able to identify a new buy zone. A new analysis for QNT will soon be available in the Premium environment.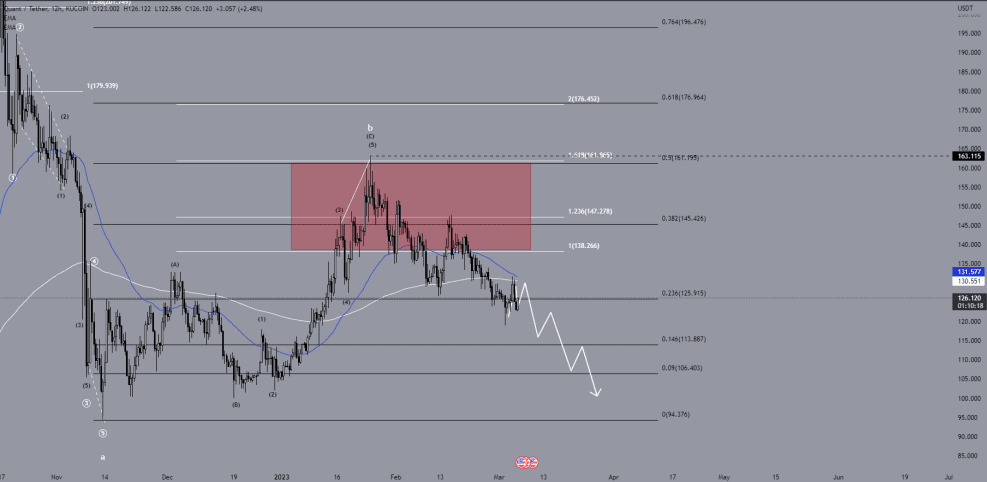 Immediately receive more crypto analyzes in our Premium environment
The crypto market is volatile and constantly changing. Often after every increase, a decrease follows. Our analysts therefore use Bybit to also benefit from falling prices through short positions. With a Premium membership, you receive weekly technical analysis on more than 20 cryptocurrencies and learn from experienced analysts and traders how to benefit from it. For more information, take a look at our Premium information page and try the first 30 days for free.
Disclaimer: Investing involves risks. Our analysts are not financial advisors. Always consult an advisor when making financial decisions. The information and tips provided on this website are based on our analysts' own insights and experiences. Therefore, these are for educational purposes only.