Crypto Insiders Premium members receive weekly new technical analysis of more than 20 crypto coins. You will also come into contact with experienced traders, analysts and a community of more than 1,000 members.
In this article we share a recent analysis of Decentraland (MANA) from our Premium environment. If you are not yet a member or if you still have questions after reading this article, try our Premium membership free for 30 days.
Technical analysis MANA price
In recent weeks, decentraland's share price has entered a downward spiral. The MANA price has already fallen almost 40% since the peak in early February. Still, this decline may lead to new opportunities, Crypto Insiders analysts report. However, the price could go a little deeper, they recently explained to Premium members:
"MANA, as expected, has sunk nicely into the green support box zone. No crucial price levels have been broken, but it is important to take into account that the price may still fall towards the bottom of the green box towards $0.4767.

We would rather not see the price go below $0.4160. Should this happen, we expect new lows. In the Premium environment, we will soon share a new analysis to map the further progress."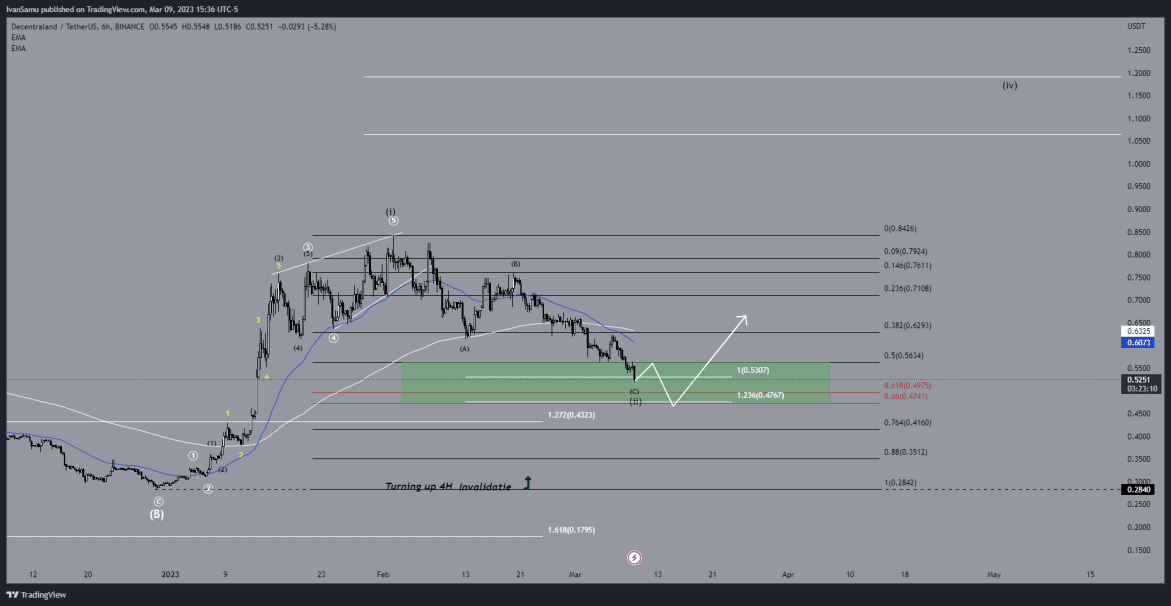 Immediately receive more analyzes in our Premium environment
The crypto market is volatile and constantly changing. Our analysts make therefore using ByBit to be able to respond to falling prices. With a Crypto Insiders Premium membership, you can learn from experienced analysts and traders how to benefit from our analytics. For more information, take a look at our Premium information page and try the first 30 days for free.
Read more about Decentraland
Disclaimer: Investing involves risks. Our analysts are not financial advisors. Always consult an advisor when making financial decisions. The information and tips provided on this website are based on our analysts' own insights and experiences. Therefore, these are for educational purposes only.