Crypto Insiders Premium members receive new weekly technical analysis on more than 20 cryptocurrencies. You will also come into contact with experienced traders, analysts and a community of more than 1,000 members.
In this article, we share a recent analysis of bitcoin (BTC) previously shared in our premium group. Are you not yet a member or do you still have questions after reading this article? Then try our Premium membership for free for 30 days.
Technical analysis BTC price
The past few days proved to be crucial for the price of bitcoin. Heavy volatility ensued, forcing Crypto Insiders analysts to immediately dive back into the charts. They have now been able to offer the members of Premium more clarity:
"What led to the change in the situation? This question is justified and we explained this in the previous emergency update of March 10. BTC price action has been so volatile that we can no longer speak of a healthy correction and profit taking as we are used to in a bullish trend.

The economy will come under further pressure, which means that companies will be less likely to opt for risky assets. So the big money will not find its way to crypto. Only retail investors are currently sustaining the market and that is a very bearish indicator.

Major support zones have been ignored and this has led both market makers and other traders to go into defensive mode. For BTC, we are now seeing a larger 12345 Elliott Wave pattern emerging, where we are currently still in the first wave of downside."
The analysts therefore fear even more setbacks for the number one cryptocurrency. In the Premium environment you can read a more extensive analysis for bitcoin, how deep the price can fall and comparisons with stock markets such as Nasdaq and Dow Jones.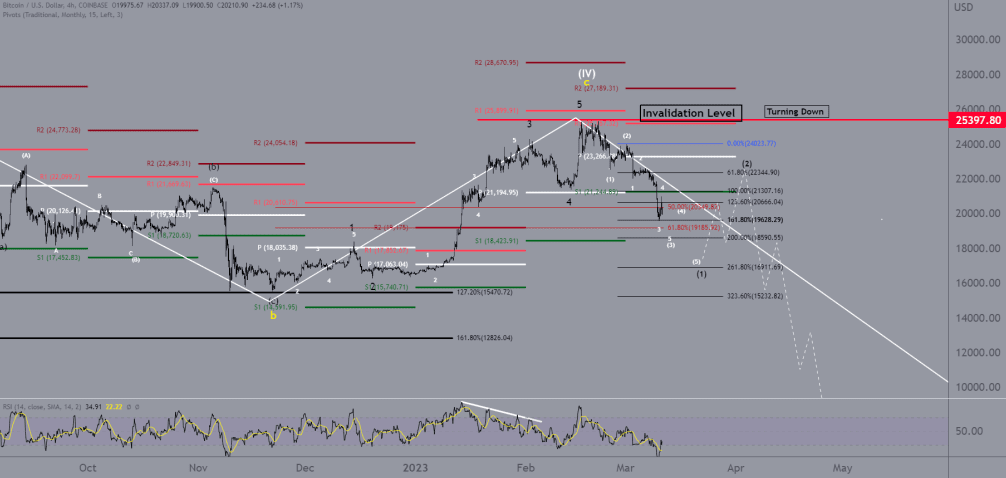 Immediately receive more crypto analyzes in our Premium environment
The crypto market is volatile and constantly changing. Often after every increase, a decrease follows. Our analysts therefore use Bybit to also benefit from falling prices through short positions. With a Premium membership, you receive weekly technical analysis on more than 20 cryptocurrencies and learn from experienced analysts and traders how to benefit from it. For more information, take a look at our Premium information page and try the first 30 days for free.
Read more about bitcoin
Disclaimer: Investing involves risks. Our analysts are not financial advisors. Always consult an advisor when making financial decisions. The information and tips provided on this website are based on our analysts' own insights and experiences. Therefore, these are for educational purposes only.