The Citroën Ami is a small city car that is very cheap and simply built. Although the EV is not really fast, a driver in Monaco's world-famous hairpin managed to overturn the car.
You may know the hairpin from Formula 1 and it is called the Grand Hotel hairpin. The corner is the slowest of the street circuit.
Citroën Ami flips over in world-famous hairpin
So if you drive through the world famous hairpin with a Citroën Ami, you shouldn't go too fast. The cube-shaped car can then tip over. Taking the corner uphill was still fine, but the sharp turn at full speed downhill caused problems.
Several videos online show that the driver is taken to the hospital by ambulance. He reportedly sustained minor injuries.
Although this Citroën Ami is tilted, the small EV does not tip over extremely quickly – partly due to the lack of power. The driver took the turn several times where the wheels came off the ground slightly. In the end, the laws of nature of the French city car win and the car lies on its side.
It's not about power
The Citroën Ami has a top speed of 45 kilometers per hour. The drive comes from a 6 kW (8 hp) electric motor that is coupled to a battery pack with a capacity of 5.5 kWh. Here you can get about 75 kilometers away.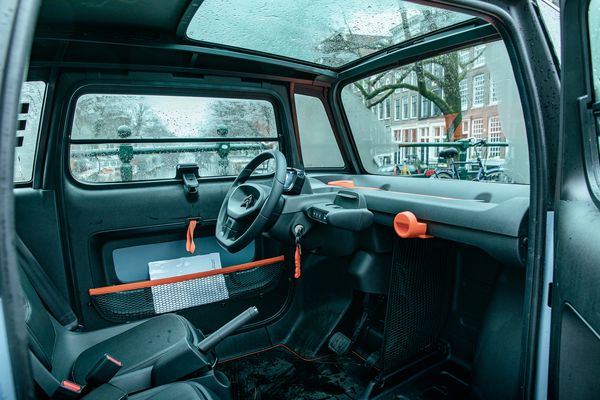 Although the Citroën Ami is not sold in the Netherlands, you can import it. This is what Gerrit Verstraete did. His French bolide is mainly used by his daughter who does not yet have a driving license for a car, but is already allowed to drive a scooter – and therefore in the Ami.
5 bizarre rules that Ferrari owners must abide by
Gerrit also has a preference for Citroëns. You can see what it's like to live with such an Ami in the episode of Your Garage below.
Did you see a mistake? Mail us. We are grateful.
News


3 nov 2022,

This costs the Citroën e-C4 X in the Netherlands

News


2 nov 2022,

Oh no! The Netherlands loses its own car brand again: Burton

News


20 oct 2022,

Citroën and Peugeot auction 100 classics and concepts. Make your move!

News


30 sep 2022,

The Citroën Oli is like your mother, saying: "Enough is enough!"

News


27 sep 2022,

Citroen has a new logo! And it's an… Easter egg?

News

Yesterday,

E10 petrol bad for the environment? This says a new study

News

Yesterday,

The updated Mazda 2 is a bargain! And that's pretty depressing…

News

Yesterday,

Yes, there is a Mercedes G-Class Coupé! And you can also buy it…