Crypto Insiders Premium members receive new weekly technical analysis on more than 20 cryptocurrencies. You will also come into contact with experienced traders, analysts and a community of more than 1,000 members.
In this article, we share a recent analysis of litecoin (LTC) previously shared in our premium group. Are you not yet a member or do you still have questions after reading this article? Then try our Premium membership for free for 30 days.
Technical analysis LTC price
Litecoin was one of the few rates that still performed strongly in the second half of 2022. However, since the peak in February, the LTC price has been in a correction, but has bounced quite a bit in recent days. That may provide an opportunity to take profits, as the correction could go even deeper. Crypto Insiders analysts recently described this to Premium members as follows:
"Litecoin is in a downward trend from the February high. We foresee another significant drop in the near term through a 3 swing low to the $40 to $50 range, but not below.

In the long term, we are still bullish on the LTC price. However, the red box is in a high-risk area. The red box is on the pivot point and the weekly high with a potential AB=CD target.

Due to the market conditions, everything is extra uncertain, so we keep a close eye on the LTC price in the Premium group. If the price deviates from our expectations, you can immediately find a new analysis in the Premium environment."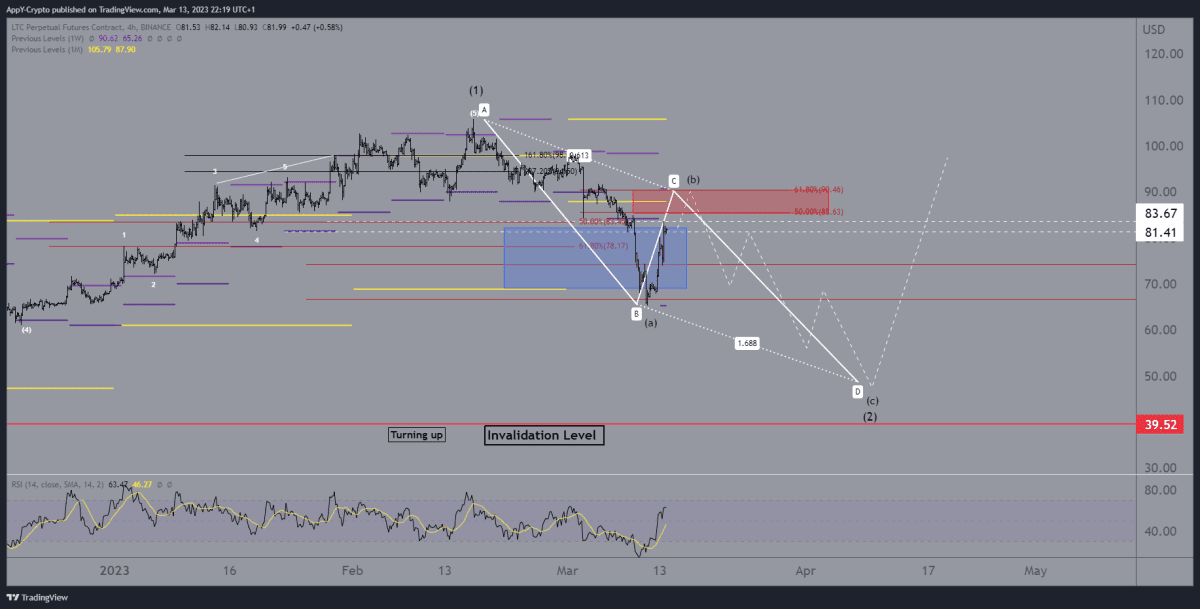 Immediately receive more crypto analyzes in our Premium environment
The crypto market is volatile and constantly changing. Often after every increase, a decrease follows. Our analysts therefore use Bybit to also benefit from falling prices through short positions. With a Premium membership, you receive weekly technical analysis on more than 20 cryptocurrencies and learn from experienced analysts and traders how to benefit from it. For more information, take a look at our Premium information page and try the first 30 days for free.
Read more about Litecoin
Disclaimer: Investing involves risks. Our analysts are not financial advisors. Always consult an advisor when making financial decisions. The information and tips provided on this website are based on our analysts' own insights and experiences. Therefore, these are for educational purposes only.