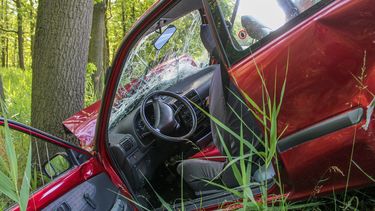 Did you sleep very badly? Then it's not such a good idea to get behind the wheel. Because research shows that a fifth of the fatal traffic accidents in the Netherlands are (partly) due to lack of sleep.
When you are drowsy in the car, you are less alert, you have more difficulty making decisions and your reaction time is longer. Sleep deprivation plays a role in just over 20 percent of fatal crashes.
Sleep deprivation as bad as alcohol consumption
This means that accidents caused by drowsiness are almost as common as accidents caused by alcohol consumption. Giving yourself less than four hours of sleep can lead to a fifteen times higher risk of a collision.
Why These Photos of a Car Crash Are Worth $85 Million
If you have not slept for eighteen hours, that is equivalent to 0.5 promille alcohol in your blood, or two standard glasses of alcohol. If you have been up for twenty-four hours, that corresponds to 1 promille (four glasses of drink).
Friday International Day of Sleep
Friday is International Sleep Day. Beter Bed has carried out a test in this context. Driver Tom Coronel drove two test drives in a simulator: the first fit and well rested, the second after being awake for twenty-four hours.
How Tesla misleads you with these Full Self-Driving safety figures
During the first stage, Coronel reacts quickly, drives a tight course and anticipates well. His lap time is 1:20.680 minutes. The second ride – after 24 hours of no sleep – it hardly lasts. His lap time is also 2 seconds slower.
Opening the window or turning on music does not help
Tired driving can lead to so-called micro sleeps, says sleep scientist Merijn van de Laar. The drowsiness then becomes so great that the body has to give in to sleep. And that is life-threatening.
Lots of weight and speed: concerns about the safety of electric cars
"Opening the window or turning on music no longer works. And also chewing or eating something has not been proven to be effective." People with untreated sleep disorders and young adults are most likely to fall asleep behind the wheel, especially between 12 and 6 a.m.
Do you start to yawn or nod while driving and your eyelids get heavy? Then park your car somewhere, Van de Laar recommends, and take a twenty-minute nap. Do not continue.
Did you see a mistake? Mail us. We are grateful.