Crypto Insiders Premium members receive new weekly technical analysis on more than 20 cryptocurrencies. You will also come into contact with experienced traders, analysts and a community of more than 1,000 members.
In this article, we share a recent analysis of solana (SOL) previously shared in our premium group. Are you not yet a member or do you still have questions after reading this article? Then try our Premium membership for free for 30 days.
Technical analysis SOL price
The prices of almost all cryptocurrencies have risen very fast in recent days. Solana's price is already up more than 37% since Friday's low, but is now running into resistance around $22. Crypto Insiders analysts warned Premium members a few days ago that there would be a lot of resistance here. It is therefore possible that SOL will drop sharply again from here, they explained as follows:
"SOL currently looks bearish in the near term. We expect the high volatility for the price to continue, partly thanks to the fact that SOL has already made a considerable bounce. However, we expect a lot of resistance around $22 due to the previous weekly high combined with key pivot zones.

We see a WXY Elliott Waves 7 swing low on the chart and expect an 11 swing low from a larger WXY pattern. The current bounce may provide an ideal time for an exit strategy, but that depends on your goal. In the short term, the price may still go a little higher, but we do not expect much higher than $ 22.80.

From there, we expect quite bearish momentum with a possible drop all the way to $12. In the Premium environment we keep a close eye on SOL. If our bitcoin analysis invalidates, this may also apply to solana. We will then immediately share a new analysis in the Premium group."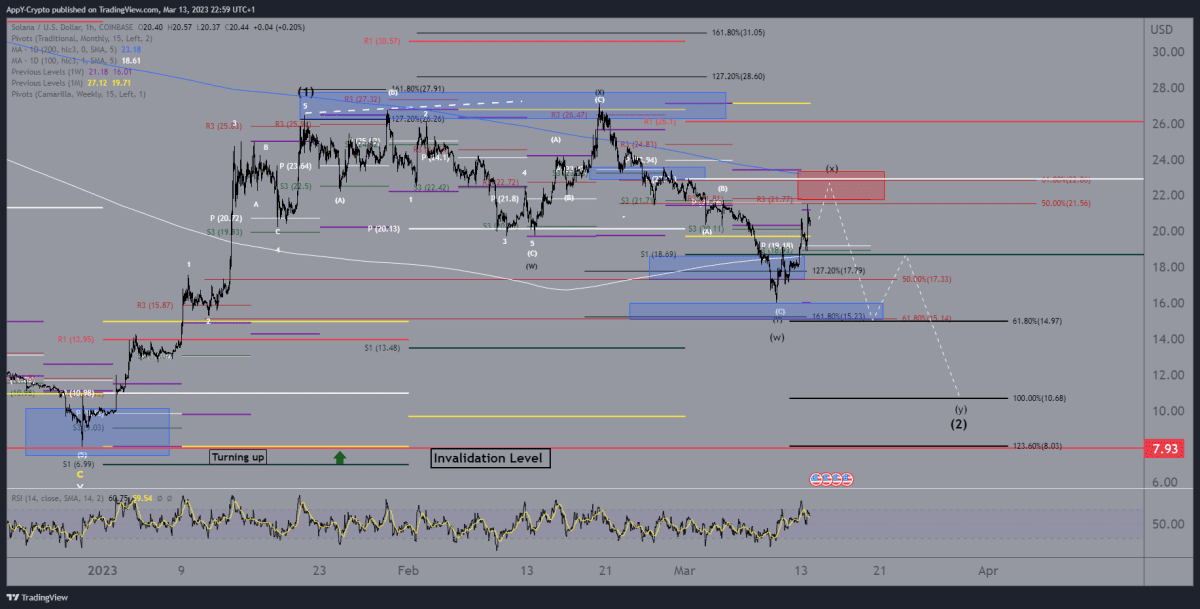 Immediately receive more crypto analyzes in our Premium environment
The crypto market is volatile and constantly changing. Often after every increase, a decrease follows. Our analysts therefore use Bybit to also benefit from falling prices through short positions. With a Premium membership, you receive weekly technical analysis on more than 20 cryptocurrencies and learn from experienced analysts and traders how to benefit from it. For more information, take a look at our Premium information page and try the first 30 days for free.
Read more about Solana
Disclaimer: Investing involves risks. Our analysts are not financial advisors. Always consult an advisor when making financial decisions. The information and tips provided on this website are based on our analysts' own insights and experiences. Therefore, these are for educational purposes only.