Sometimes Theo van den Beemt (66) feels a bit like he lives in 'a well' in Rozenburg. A lot is changing in the town, surrounded on almost all sides by the port of Rotterdam. The ferry to Maassluis no longer sails, the important Caland Bridge was closed until last month, many trees are being cut down, and there are plans for the arrival of a wind turbine. The pensioner: "There is already so much going on here. And now there is also hydrogen."
In the local newspaper he read about the plans of companies in the port to store hydrogen in large quantities in the port area and to transport it further. This substance is new to the port and requires careful, safe storage. "I want to know what to expect. For example, what will happen in terms of pipelines for the transport of hydrogen?"
You can't sell nonsense, these people are from the field

Freddy February Air Products
The security situation in the port of Rotterdam will change radically in the coming years. Companies in the largest industrial area in the Netherlands have many plans to store or transport hydrogen – an important energy carrier in the energy transition – to Germany. The highly toxic 'auxiliary agent' ammonia is required for this storage and transport.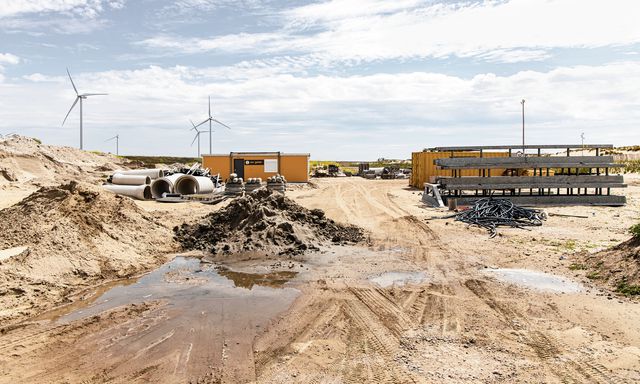 Read onSupervisor: chance of major incidents with hydrogen in ports

At the moment, the port is not well prepared for this future, warned Daan Molenaar, Director of Licensing of the Regional Environment Agency at the end of February. NRC. According to Molenaar, standards are lagging behind and there is no overarching approach that coordinates the storage locations and transport methods, for example with a special pipeline network for hydrogen and ammonia. As a result, transport threatens to take place in a fragmented and dangerous manner: by train, road or water. "With large-scale ammonia storage, you are talking about 100,000 train wagons per year. That's a nightmare."
Information evening for local residents
Due to all the changes, the municipality of Rotterdam organized an information meeting in Rozenburg on Tuesday evening. About 70 local residents showed up. Many attendees work or used to work in the port area, for example as a transporter or shipbuilder. "That is why you have to tell the honest story," says Freddy Koetse of Air Products, one of the companies that wants to import ammonia and produce hydrogen. Koetse will partly speak this evening to explain his company's plans. "You can't sell nonsense. These people come from the field and know how things work here."
I wanted to know which is more dangerous: natural gas or hydrogen

Ton resident of Rozenburg
It soon becomes apparent that many residents are concerned about all kinds of other aspects in addition to safety, such as the consequences for accessibility and traffic. The harbor is already packed, and Rozenburgers have the feeling that they are constantly surrounded by construction projects. "Will there be a lot of breaking up again?" Thea Marinus (84) and Rie Arendes (84) wonder.
Fifty years ago, the girlfriends moved to Rozenburg (pop. 12,000) for their husbands' work in the harbor. "The A15 is already a drama due to the busy traffic to and from Rotterdam, and the transport from the port," says Marinus. She is afraid that there will be a lot of inconvenience again if new transport pipelines have to be installed. Or if road transport increases.
Not quite reassured yet
The former reformed church of Rozenburg is full of posters with texts like 'Moving Humanity Forward' and 'A safe and liveable Rijnmond area'. Air Products' Koetse explains each part of the "supply chain" of hydrogen – the transport from, for example, the Middle East to the transit to Germany – carefully. The audience coughs, shifts in their seats and chuckles slightly at the Powerpoint full of English jargon and colorful line and bar charts.
After half an hour, attention slackens, Koetse also notices. He quickly switches to what the local residents want to hear: what safety measures are companies taking with regard to health and the climate? Koetse promises that the hydrogen is well secured in a pressureless storage, in minus 33 degrees Celsius. "In this way, the ammonia spreads less quickly if it were to be released." It gets quiet in the hall. "We want to do it safely and cannot afford any accidents."
Local residents Van den Beemt and Fred de Pijper (62), truck driver at Euromaster, explain that they trust that the planners have the best intentions for the village. De Pijper says that the transition to hydrogen is necessary. But there is also skepticism. "The companies will not show the back of their tongue so quickly." He fears that she will only adhere to the most basic safety measures.
"We simply have to enter the energy transition, but that is not fun for us," says Ton (82), ex-owner of a large shipbuilding company, who does not want his last name in the newspaper for privacy reasons. He's not completely reassured yet. "I wanted to know which is more dangerous: natural gas or hydrogen, but I have not yet received an answer," he says. "And I don't think they will."
M.m.v. Milo van Bokkum
A version of this article also appeared in the March 9, 2023 newspaper