Crypto Insiders Premium members receive new weekly technical analysis on more than 20 cryptocurrencies. You will also come into contact with experienced traders, analysts and a community of more than 1,000 members.
In this article, we share a recent analysis of ethereum (ETH) previously shared in our premium group. Are you not yet a member or do you still have questions after reading this article? Then try our Premium membership for free for 30 days.
Technical analysis ETH price
The prices on the crypto market have risen sharply in recent days. Bitcoin reached its highest price in 9 months and ethereum is up 10% from last week. Crypto Insiders analysts note the following in their most recent ETH analysis:
"The market has moved up significantly from the blue box, leading us to believe we can still be bullish on ETH. We are somewhat surprised by the strong recent surge in the crypto market. Although we still want to warn about the uncertainties caused by macroeconomic factors, the picture remains cautiously optimistic.

In the short term, we expect further gains, but there is not much upside potential due to the macroeconomic environment. We are currently seeing a primary Elliott wave flat formation as we experience a rebound from the December 22 low.

We expect the price to rise towards the 127.2% and 161.8% Fibonacci levels, which corresponds to a price between $1,846 and $1,976. However, a major correction may follow. In the Premium environment, the analysts will closely monitor this situation and share a new trading plan."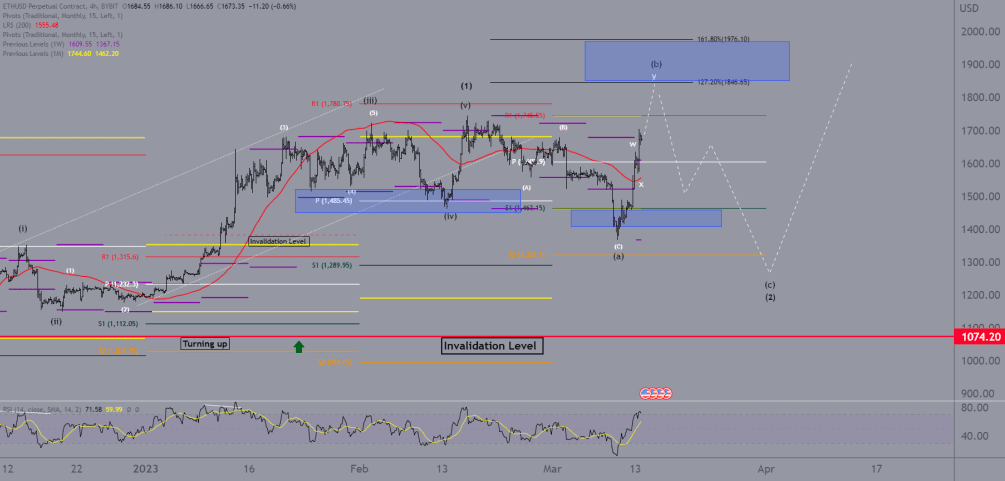 Immediately receive more crypto analyzes in our Premium environment
The crypto market is volatile and constantly changing. Often after every increase, a decrease follows. Our analysts therefore use Bybit to also benefit from falling prices through short positions. With a Premium membership, you receive weekly technical analysis on more than 20 cryptocurrencies and learn from experienced analysts and traders how to benefit from it. For more information, take a look at our Premium information page and try the first 30 days for free.
Read more about ethereum
Disclaimer: Investing involves risks. Our analysts are not financial advisors. Always consult an advisor when making financial decisions. The information and tips provided on this website are based on our analysts' own insights and experiences. Therefore, these are for educational purposes only.